Hey there, dreamer!

You're an entrepreneur (and probably hates salesy messages) so let me cut the chase.

You want to BUILD YOUR BRAND and INCREASE SALES, right?

Perfect.

Then allow me to tell you something.

If you want to accomplish your goal, it requires A LOT OF WRITING.

"Okay. A lot of... WHAT?!?"

I know. You're not a writer or at least you know that you just want to sell and get a Ferrari 40.

(If you can afford it, maybe you're in the wrong page.)

But if you're a SOLOPRENEUR or a FREELANCER, you can't skip this task.

WHY? The answer is simple. Today's digital age is driven by content.

For your customers to know about you, they have to read about your company somewhere.

Unless you have big bucks to televise yourself or create tons of videos about your products and services.

But wait, you may have forgotten. That would involve writing a script, too!

On top of that, you should have a professional website people could look at after watching you.

Outsourcing could be an option if you have the budget. But you'll still need to assess if the writer you hired did a good job.

Whether you like it or not, if you want to succeed as an entrepreneur, you need to learn basic writing.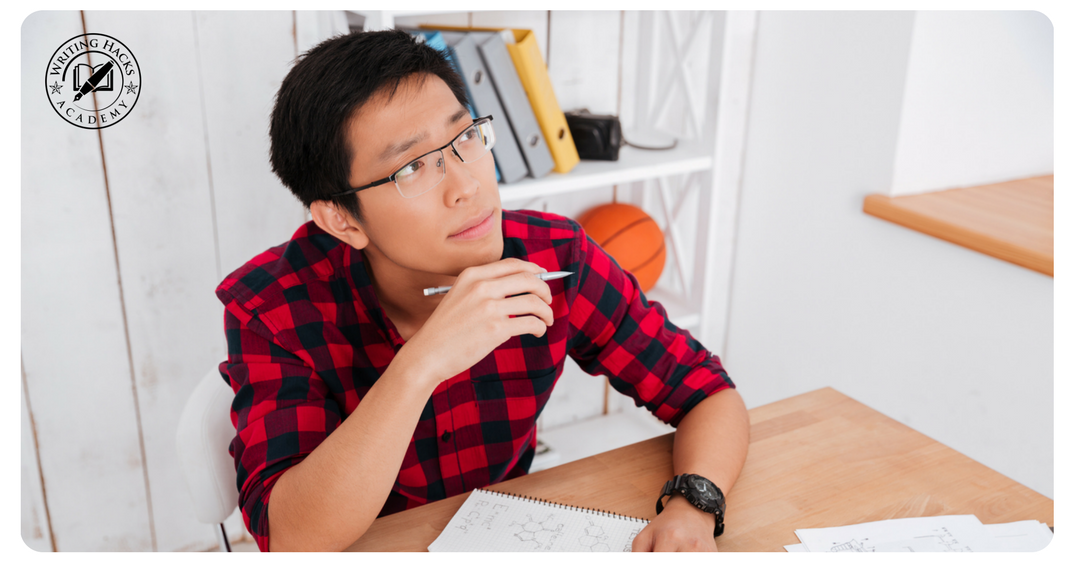 This is why you're here.

More entrepreneurs are drawn towards studying content marketing:

regularly creating blog articles,
social media posts,
e-mail newsletters,
and e-books.
These are effective ways to build your brand.

However...

You need the same attention in understanding how to properly write

your company profile,
sales letters,
proposals,
and contracts.
These are the tools you need to directly offer your services to customers and close business deals.

Creating these would TAKE TIME, BUDGET, AND EFFORT.

"That sounds like a huge undertaking!"

Indeed, it is.

That's why I'm here.

I have created a fool-proof solution to help you understand the BASICS IN WRITING CONTENT FOR SALES AND MARKETING.

Now you don't need to write every single day...

or hop from one YouTube tutorial to another just to learn how to do the things we listed.

Our all-in-one training course will give you a BLUEPRINT to create the sales and marketing materials you need to write.

In fact, you can create a 3-month content for your blogs and social media platforms in just 14 days!

Now, you may be thinking, how does writing for sales and marketing differ?

Marketing and sales are both aimed at increasing revenue.

They are so closely intertwined that people often don't realize the difference between the two.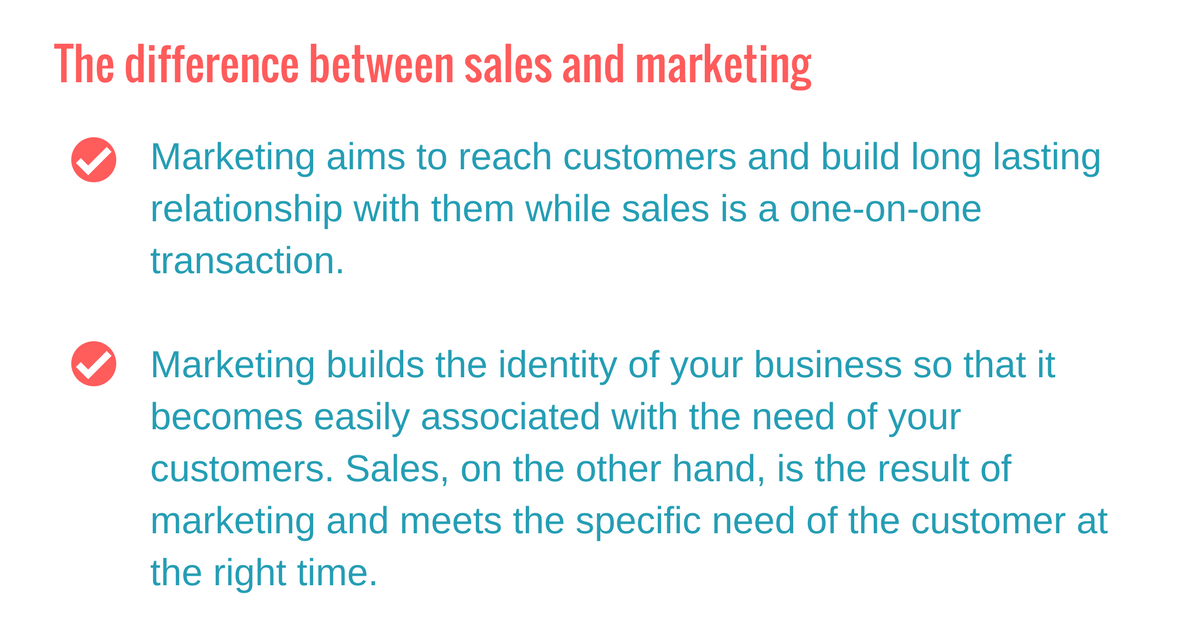 The advantage of taking this course with me as your facilitator is my experience in all three: sales, marketing, and writing.
I have led sales initiatives with multinational organizations in my career.

I was hands-on with creating direct response materials and equipping my team with their basic sales kit.

Plus, I have taught business and technical writing to more than 900 professionals since 2016.

I can also relate to your struggles because I'm an entrepreneur like you. I write content for my own businesses. I have e-books on Amazon, manage four websites and social media accounts for various brands, too.

Are you wondering how I juggled all these including creating an e-course?
I'm excited to share with you my tricks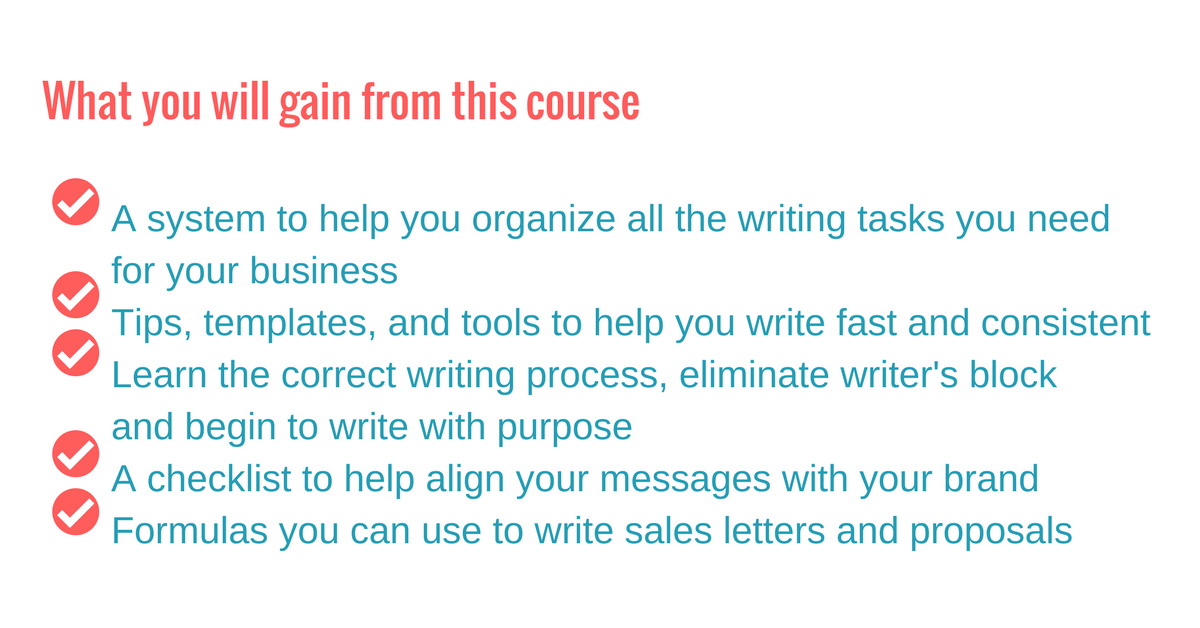 There's more! Check out these items: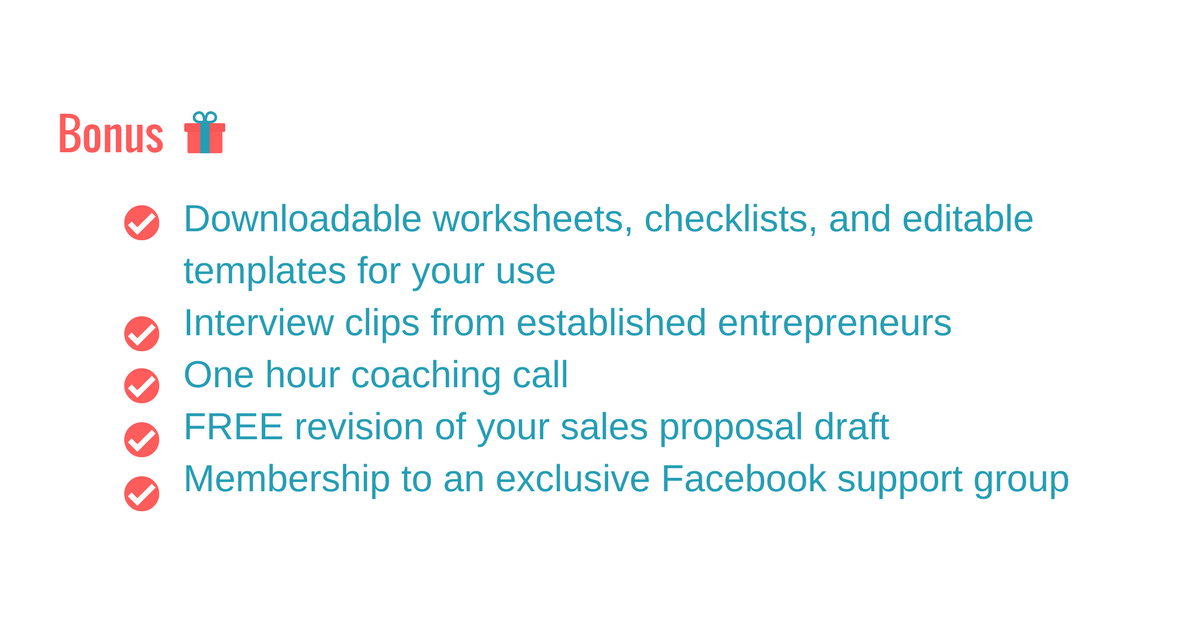 You won't just learn from me because you will also access expert tips through PDF reports from:
Allan Ngo
Founder of Digital Solopreneur and a rockstar in writing six-figure email marketing campaigns.
Sha Nacino
A sought-after speaker and a prolific author of 11 books. She is the founder of The 90-Day Book Writing Challenge online course where she teaches people how to write books

in 90 days

, even if they are not writers.
Raffy Marabut
Direct-Response Copywriter who's helped over 500 clients across the globe get more sales, leads, and customers. He is also the Founder of Copywriting Dojo, the Philippines' first community for copywriters.
Lexter Ang

Communication Designer

who develops brand and communication strategies for local businesses. Lexter finished a second degree in Digital Design major in Branding in Vancouver.
Virginia Bautista
Six-figure freelance writer and the first and only independent LinkedIn Trainer & Consultant based in the Philippines. Virginia was featured twice on Forbes for her success on LinkedIn and her tips on how freelancers could leverage LinkedIn to build a powerful personal brand that attracts high-paying clients.
Via Galang
Homerson Bonifacio
Founder of Digital Masters Academy who

helps Filipino entrepreneurs build their websites. Homerson was featured on Negosyo University and interviewed for Cheche Lazaro's Probe Webisode.
Crazy list, eh?
In short, you'll be exposed to hugely successful and well-respected experts in the digital space!

But it doesn't stop there.

I'll continuously seek stories of established entrepreneurs even after you completed the course.

Which means you'll still be able to enjoy these because you have LIFETIME ACCESS to our materials.

If you want a tangible result that could directly impact your business, remember, the course is designed so you can create your sales kit in 14 days, too!

You won't have to worry if a prospective client will ask for your portfolio or send a detailed proposal about the services you offer.

If you're still doubtful and want to do your own research instead, signing up will allow you to SAVE TIME.

I consolidated references from credible sources to present to you a coherent course.

Right now, it's hard to find a one-stop-shop guide like this.

You'll need to access the topics individually through separate courses.
And oh, I know you'll benefit from the 1-hour coaching call I will schedule with you.

I'm willing to revise or check your sales proposal draft, too.

You can access our tools anytime at your most convenient schedule; anywhere, even while wearing your pajamas.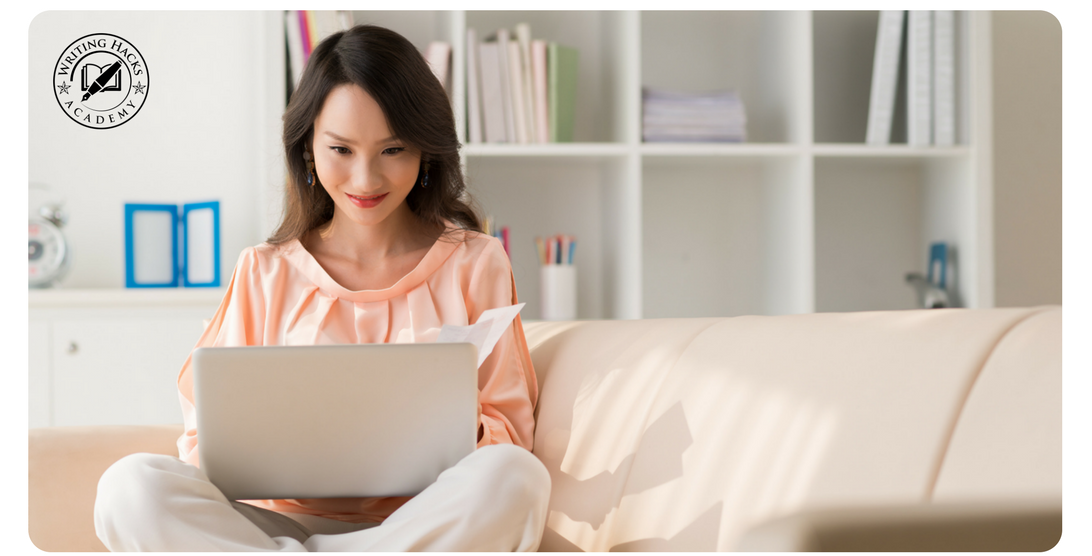 Honestly, if I were to calculate the cost of creating this course from research, module writing, creating PowerPoint and recording video materials, I should be asking for a six-months worth of my monthly salary!

But don't worry, I'm offering this at an affordable rate. Consider the fee as an investment to eventually generate income for your organization.
Before you review the price, I want to make sure that you're fit for this.
This course is NOT designed for:
The business owner who runs a multi-million company and can hire sales and marketing teams
The expert copywriter or content marketer
The procrastinator who waits for his business to grow on its own without effort
This course is best for:

Solopreneurs who want guidance in preparing a sales kit to offer products and services
Newbie freelancers who want to build their brand and attract clients
Small business owners who want an overview of basic principles before hiring a writer or content marketer
Want to get an idea about HOW YOU'LL FEEL after taking this course?

Here are some reviews:

"Jonah Chipeco is great in teaching about this course. No need to look further on the other courses that would waste you more time, money, and effort. Youtube here, Youtube there, Google here, and Google there would lead you to nowhere.
This is a highly recommended and straight to the point course if you would like to adapt digital marketing. Writing is a big hindrance for me that's why I made the decision to take this course. No fluff. No BS. No hokus pokus.
The value that you can get in this investment is really very valuable and helpful for you to shortcut your entrepreneurship journey. I really learned a lot." - Edreen Bryan, Founder and Startup Strategist IBX Marketing Services
***
"The course helped me gain knowledge and enhanced my writing skills. Aside from how to structure my writing, I learned branding and marketing, too. Jonah is very passionate about helping other people write. -Cybil Ocleasa, Freelance Marketer
***
"Writing Hacks for Entrepreneurs is a must-have course for all entrepreneurs who want to take their business to the next level. The course has a lot of freebies and downloadable materials which you can use for your business right after a specific lesson.

Jonah Chipeco is not only a great writer but an awesome marketer, entrepreneur, and coach. She will guide you step-by-step on how you can craft a marketing plan to increase your sales, reach, and online presence.

The course is worth more than the price you pay for." -Harold Gardon, Financial Consultant
***
"Writing Hacks for Entrepreneurs is a great course for those who want to easily, quickly, and effectively write copy and content for their business. Every lesson is worth the read and with this course, you can go from "struggling" to "thriving" a few months after implementing what you'll learn here. There are a lot of high-value bonuses too!
Definitely a MUST for any entrepreneur desperate for success!."
-Raffy Marabut, Founder of Copywritingdojo.com
***
I'm excited for you to be the next one to write an awesome review!
Just a clarification, I won't discuss about grammar rules and sentence construction in the course. Your writing skills should be on the average level.
If you VALUE EFFICIENCY, PRACTICAL LEARNING, and want to GET YOUR WRITING TASKS DONE, then you have the right motivation to enroll in our group.
You'll have access to our program immediately and will be part of our BATCH 4 STUDENTS.

Coaching Call and Sales Letter Revision for FULL ACCESS ENROLLEES will be available within 30 days after your money-back guarantee period.
Review the course outline and Q&A below.